---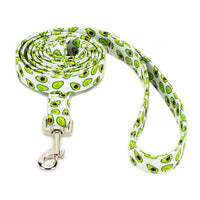 Looking for a colorful dog leash? Try our Avocado-inspired design. Bright and fun, it perks up any conversation when you are out walking about with your best furry friend. Think fruity. Avocado fruity. 
SPECIFICATIONS
Length: Six feet long, .75 inches wide
Material: Durable cotton and polyester blend with metal hook and clasp
mission
We love dogs, and are passionate about giving hope to homeless rescue dogs in shelters. We create products that allow us to connect with other dog lovers and hopefully, together, we can make a difference.